Overview
Please see how interest we are. Join us and let's enjoy wheelie together.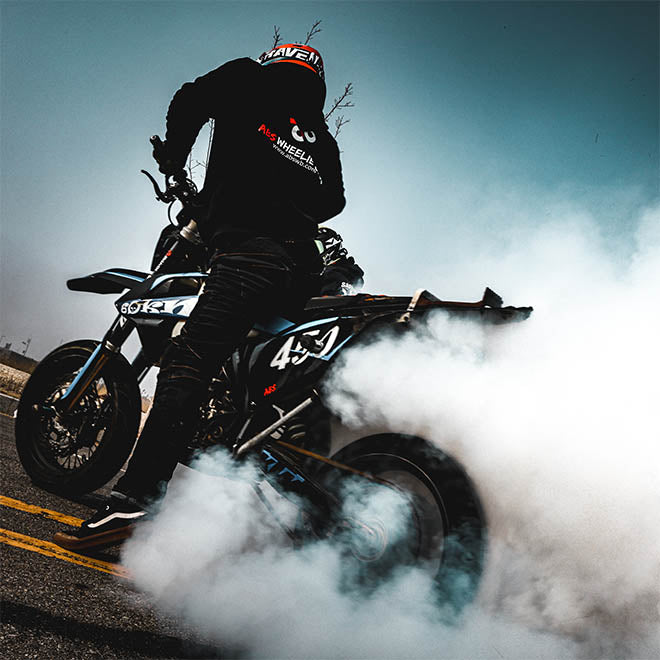 ABOUT US
SB MOTO's founder Cho Sung-bin is also a stunt bike rider with over 20 years of experience. He runs the Wheelie School, which teaches Wheelie skills to many riders in Korea with his long experience and excellent skills. Many riders want to master their Wheelie skills, but their inexperienced handling has often resulted in an accident that flips backwards, leading to serious injuries. So Cho Sung-bin made ABS Wheelie Bar through years of experience and testing for them.
ABS WHEELIE BAR STORY
The best motorcycle trainer machine, ABS Wheelie Bar, has been developed through numerous experiences and tests. The process was never easy.
How do I use the ABS wheelie bar
Check out how I use our ABS wheelie bars. I am a wheelie academy trainer in Korea. You can always communicate with me by subscribing to my YouTube channel.
How To Install ABS Wheelie Bar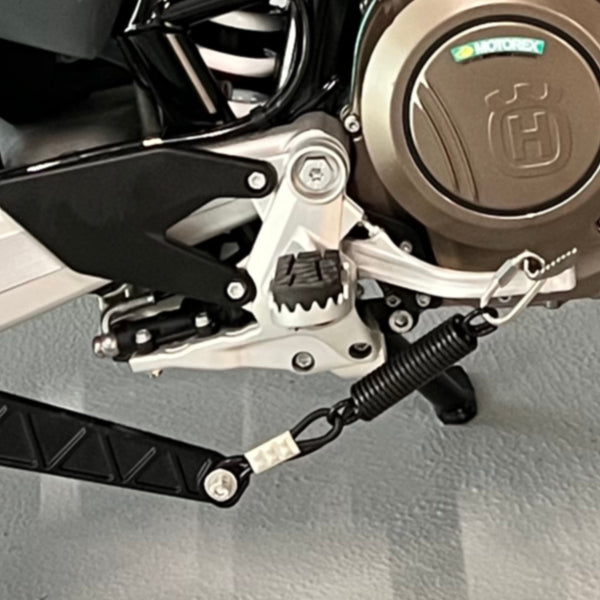 HOW TO INSTALL
Assembling our ABS wheelies is never difficult. Follow our YouTube video carefully and refer to our installation guide. Still having trouble assembling? Please feel free to contact us.
SEE INSTALL GUIDE
FEATURE OF ABS WHEELIE BAR 3
ABS Wheelie is a wheelie assist machine produced by Seongbin Jo, who runs the wheelie academy in South Korea. Thanks to all the advice of trainees, it is the world's most advanced motorcycle willy trainer machine.
Automatic brake system

Automatic brake system which prevents flipping over.
Easy to attach

Easy to attach and detach as it is clamped to the swing arm of the bike with 4 bolts.
Easily adjusting wire

Able to set motorcycle wheelie angle by easily adjusting wire.
Weght

Light aluminum body with steel powder coating (3.3 kg)
Compatible

Compatible with all dirt bikes and supermotos
HUSQVARNA (Husaberg): TE TC TX FE FX FC SM 125~501, 701 Supermoto
KTM: SX SX-F EXC TPI XC XC-W XC-F 125~505 , 690 SMC R , 640 LC4 Supermoto
HONDA: CRF 150~450 X F R RX RS RWE
KAWASAKI: KX KLX 140~450 R X
YAMAHA: YZ YZF WR TT-R 125~450 F X FX
SUZUKI: DR-Z RM-Z 250~400
SHERCO: SE SE-F 125~500 Factory BATA: 125~500RR (2-STROKE 4-STROKE) TM MX EN 125~450
Christini 450AWD , SSR:SR450S SR189 , RIEJU: 300MR PRO/300MR Racing , LIEGE: 300MR Ranger , AJP: SPR250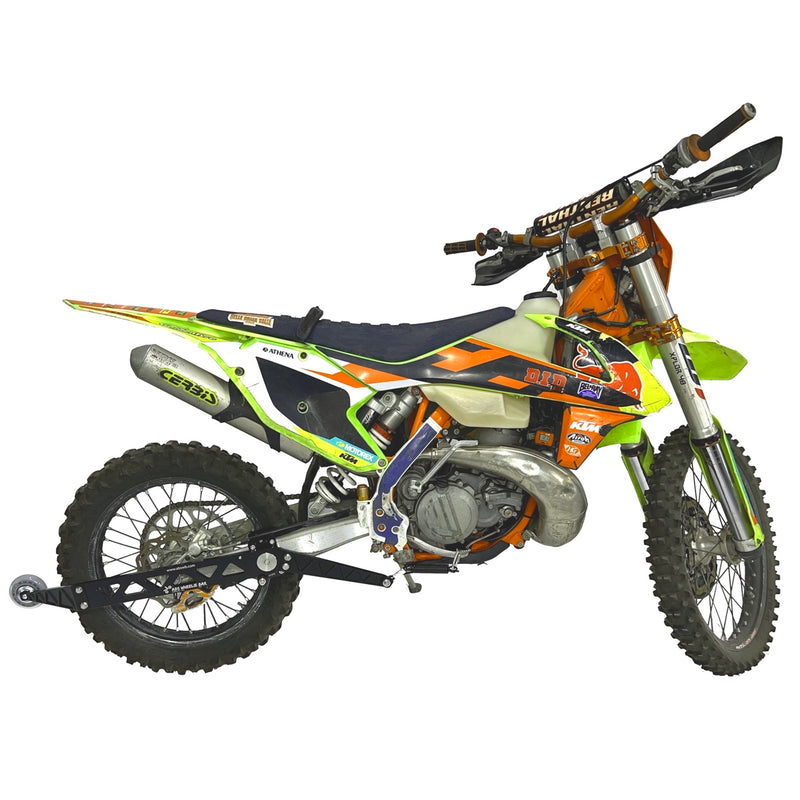 For HONDA Grom and MSX125 only
Master the Art of Wheelies with the Revolutionary MSX ABS WHEELIEBAR!
Are you struggling to perfect the thrilling wheelie trick on your motorcycle? Wheelies demand impeccable timing between throttling and using the rear brake, and practicing them can be challenging, often leading to costly mistakes or even bike overturns.
Introducing the MSX ABS WHEELIEBAR – the game-changing wheelie trainer machine designed to make your practice sessions safe and stress-free.
Safety First
Safety is paramount when it comes to pushing the boundaries of your riding skills. Our ABS Wheelie Bar is designed with your protection in mind. It takes care of pulling the brake levers for you, ensuring you maintain control of your motorcycle while you perfect your wheelie. Say goodbye to the anxiety of tipping over – our Wheelie Bar has got your back!
Compatibility
Specifically designed for the MSX125 and GROM models, the MSX ABS WHEELIEBAR is easily attachable and detachable, allowing you to switch between training and regular riding effortlessly.
Cannot be installed on motorcycles other than MSX125 and GROM models.
Shipping
We offer free shipping from Korea to all countries, and we deliver via airline courier (FedEx, UPS, EMS, DHL).
Delivery time takes 4 to 8 business days.
Unleash Your Potential
Whether you're a novice rider or an experienced stunt performer, the MSX ABS WHEELIEBAR can help you unlock your full wheelie potential.
Don't let the fear of making mistakes hold you back any longer. Elevate your wheelie game with the MSX ABS WHEELIEBAR and experience the joy of mastering this adrenaline-pumping stunt.
Get ready to turn heads and leave a lasting impression with your newfound wheelie skills. Order your MSX ABS WHEELIEBAR today and transform your riding experience!
30 Day Money Back Guarantee
Outstanding Customer Service
Secure Checkout Guarantee